Awesome was not only the Word of the Day, it also perfectly described our meeting on Monday night.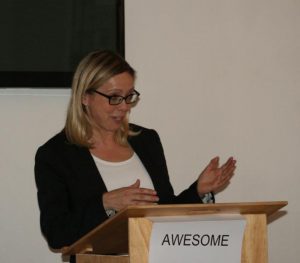 We started off with Table Topics where members were challenged to tell us the meanings of "eximious", "prestantious", "supernacular" and "deevy" in 2 minute impromptu speeches.  It was an entertaining display of quick thinking and creativity.  (Our Table Topics Master, Felix, taught us that "eximious", "prestantious", "supernacular" and "deevy" are practically synonyms for "awesome").  Prestantious job by our Table Topics Master.
We had 2 eximious speeches. Both used storytelling effectively for different purposes. Liz used a story of her work experience to convince us that it's important to let others fail if we want them to be successful.  Heike also engaged the audience in a personal story with a moral.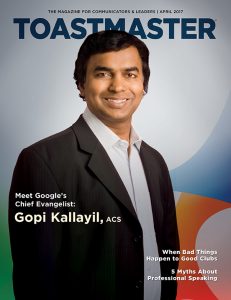 Storytelling is not just used for entertainment anymore. It has become a popular tool used these days. You can read a really  interesting article in the April Toastmaster Magazine where Google's chief evangelist of branding, a Toastmaster himself, talks about the power of storytelling in his speeches to large audiences of 400 or more.
"[Toastmasters] has fundamentally pivoted my life and is one of the best investments I have made in my ­professional growth."
GOPI KALLAYIL From Toastmaster Magazine April 2017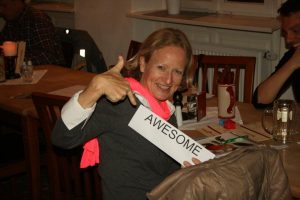 Our evening ended with the evaluation team giving their insightfully deevy feedback to all the speakers of the evening.
To top off this supernacular evening Alexandra became the newest member of Bamberg Toastmasters. Welcome Alexandra!
We  look forward to seeing all our members and guests at our next meeting on 22 May 2017.