Toastmasters will give you the skills and confidence you need to express yourself effectively in any situation. Whether you are a professional, student, stay-at-home parent or retired, Toastmasters is the most efficient, enjoyable and affordable way of gaining great communication skills. Since 1924, Toastmasters has helped more than 4 million people worldwide become better speakers.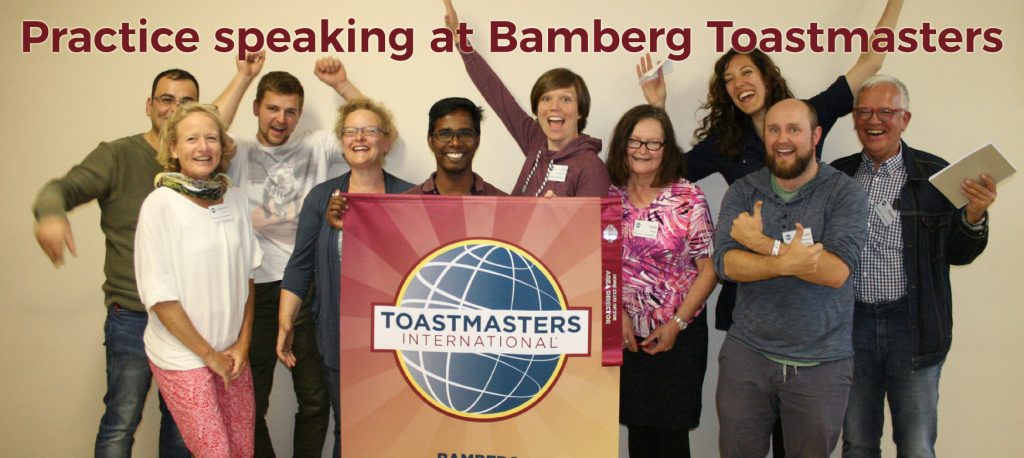 Communication isn't optional and during life you will stumble across situations where you have to speak in front of an audience. This could be at university, at a wedding or at work. You will benefit, if you are able to get your ideas across in a concise and understandable manner and if you are good at giving honest and constructive feedback. As opposed to a costly once-off seminar it's the continuous practice at Toastmasters that does the trick. At Bamberg Toastmasters you will do just that – for only 9 Euros per month – that's less than a cup of coffee per week. But that's not all: Apart from the learning experience, you will also meet friendly and supportive people, practise your English and have lots of fun. Come and join us as a guest – it's free. We are looking forward to welcoming you!
Subscribe to our agenda
If you would like to be included in our guest list and receive our agenda before each meeting, you can subscribe by entering your email address in the blue bar at the top of this page. Alternatively click here to get to our sign-up form.
Every 2nd and 4th Monday of each month 7.30 to 9 PM