Say this 4 times in a row. Saying it faster each time:
'Three free throws. '
It's a workout for your whole mouth that should cure you of mumbling. This was one of  warmup exercises given to us by our Toastmaster of the evening, Debbie, to practice really using the power of our voice to enhance our speeches.
Delilah used her extremely polite voice and lovely British accent to explain the challenges of being polite. She delivered an entertaining speech with a message.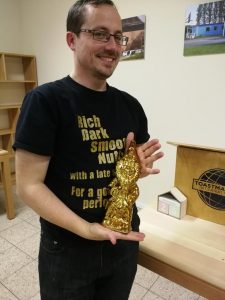 Axel accepted the Golden Garden Gnome with grace, dignity and sincerity in his project "Accepting An Award".  His deliberate slow pace of his speech conveyed dignity and appreciation. He also included colorful anecdotes when he thanked those who helped him achieve this award.  If Axel ever wins an Oscar, he will ace that thank you speech.
We also learned what does 'Quality of Life' mean for different members from different cultures, thanks to the good questions posed to us by our Table Topics Master, Malda.
It was a fun and educational  meeting and there is more to look forward to at our next meeting on October 9th. There will be another speech and an educational on giving speech evaluations.
Come join us!